If you are an internet savvy who loves to blog or are using your website for official purposes but like to do it in a simple way you have to look for this kind of good minimalistic WordPress theme for your job. With a good hosting and good theme, you are all set
Hoffman – a responsive beautiful WordPress theme.
Choose this minimal theme design for your startup blog with light weight elements and fluid responsive layout.
Infinite scroll
One page layout
Responsive and retina ready
Multiple post formats
Free Download
back to menu ↑
Subtler – Personal diary WordPress theme
Subtler is a single column layout, minimal blog style WordPress theme. The theme looks equally beautiful on a computer or a smartphone which means you have more visitors for your site as nowadays people prefer to use internet over their smartphones. The minimalistic theme has been built with a featured slider, off canvas sidebar and content loading animation. You can configure your style settings from the option panel. There is a gallery which can feature your pictures. There are colours and fonts for you to select according to your requirement.
back to menu ↑
Button – theme for crafters, hobbyists, and creatives
If you are artistic and have good skills in craft Button minimalistic WordPress theme is going to help you display your work in a beautiful way. The theme is fully responsive and works for all device screens big and small. It has a soft colour palette which is a treat to the eyes, detailed accents, gallery slideshows, and featured images. You can show off DIY's, works of craft, sewing skills or have a list of favourites from all over the web. The cute theme is going to make your visitors fall in love with your blog.
back to menu ↑
Pure Free Portfolio WordPress Theme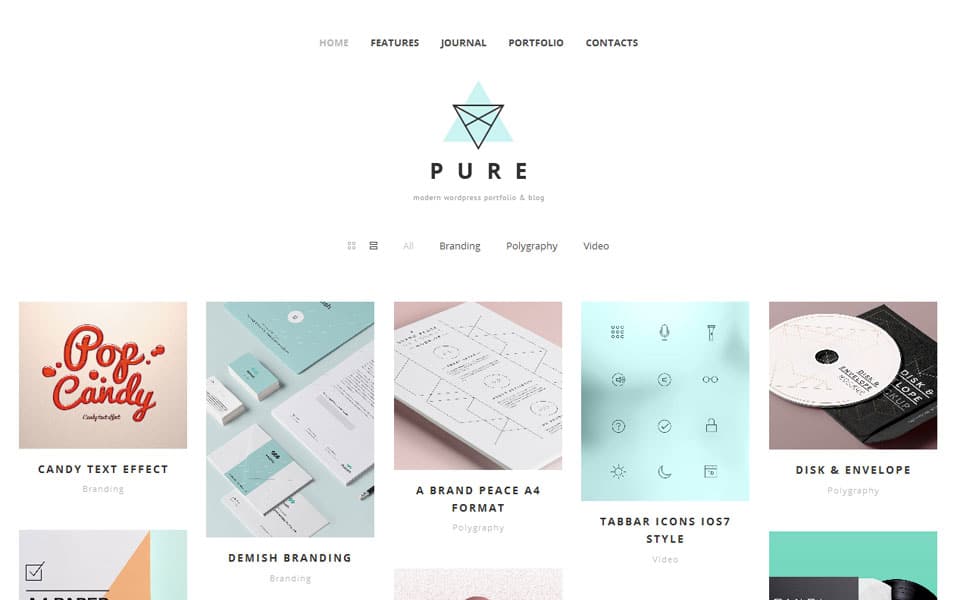 Pure WordPress Theme effectively underlines our main idea to help you display the elegant web presentation on the clean canvas without any distractive elements. This ready-made solution is specially designed for creating beautiful portfolio or blog projects which will compare favorably with the rest.
back to menu ↑
Vito – modern and minimal theme
Vito is a modern and minimal theme especially for bloggers. It features simple white backgrounds, full –screen layout and a clean design. There are animated featured images and the posts are neatly arranged one below the other. The theme is responsive and feature sticky posts which are fun to use. Vito WordPress theme is translation ready which means you just need to encode the theme and translate it in the language which you wish to use. Besides being widgetized there are social media icons which can be featured on your blog.
back to menu ↑
Resi – simple portfolio theme
This portfolio theme comes with standard and beautiful templates which will help you set up your website in no time. It supports most browsers which are popularly used like Safari, Chrome, Opera, Firefox and IE9 and upwards. You have unlimited colour on your palette which you can pick from and the Google font selector with which you can decide the font you want. Resi is a responsive WordPress theme and will look wonderful on all screen sizes. Resi also promises free updates for life which means your blog or website will develop and progress always and its viewers will have something new every time.
back to menu ↑
So Simple – Completely simple wordpress theme
As the name says So Simple has eliminated all the elements which are not required for  experience. It lets you concentrate on content, it provides distraction free reading experience to all your visitors.  The theme has WPML plugin support that lets you translate the theme into any language that you wish. It looks wonderful on all desktops, tablets, and mobile devices as the images, videos and texts can be scaled from smartphones to computers.
The theme is compatible with all popular browsers like Chrome, Safari, Firefox, and Internet Explorer9.0 and up. The theme options enable you to configure precise content like featured content, logo and the theme is absolutely free to download.
back to menu ↑
Yuuta – visual diary WordPress theme
This is a free visual diary WordPress theme for you to document your daily experiences. Post formats look beautiful with Yuuta theme and they respond great to mobiles and computers; your website is expanded. The themes featured images make your posts visually distinct. You just need to select a bunch of images of your choice and click upload and your gallery is ready, the images can be labelled and their sequence can also be changed. The gallery is tiled and there are social buttons which let you post to Facebook and Twitter automatically and also displays like buttons next to posts.
back to menu ↑
Maker – simple portfolio WordPress theme
Maker looks beautiful on all high resolution screens and retina displays and has unlimited skins. This portfolio WordPress theme is super responsive, has seven post formats and many colours which you can select from. The theme customizer enables you to make changes in the elements of a website in a live environment and verify the changes how they look before you can publish them in the website. It features unlimited bars using which you can create custom sidebars and every page can be assigned to a sidebar.
back to menu ↑
Oren – another simple porfolio wordpress theme
Oren is a minimalistic WordPress theme which is fully responsive with a modest  with a blog. The theme is wonderful to flaunt your work in style. The theme is extremely simple to work on and you don't need to be an expert to design your website. You can add your custom logo and add a tag and title for your blog.  The theme is perfect for photographers and people with originality.
back to menu ↑
Magnus – minimal WordPress theme
Magnus is one of the latest additions in the list of minimal WordPress themes. The theme is made especially for photo blogging and is Baeta's first theme to get approval for a place in the official directory. The full-width images for posts give your images a spotlight. You can set your homepage to display posts and the feature enables you to see the latest posts featured image and title at the top of the page. Magnus has used two Google fonts to beautify the theme Montserrat for the header and Karla for the paragraph text.
back to menu ↑
Neverland – 3 columns personal blog
Neverland is a free to download minimalistic WordPress theme which has hundreds of wonderful features to create a beautiful blog. It is a clean and fully responsive blog with different blog layouts. The theme is also translation ready and can be encoded and used in the language you want. You select more than 600 fonts from Google and from a variety of colours to beautify your website or blog. There are six blog posts formats – video, quote, link, standard, audio and link. There are custom widgets, theme colours, custom logo upload, site tagline and title and many other features for you to use.
back to menu ↑
Lovecraft – Professional Blog Theme
Lovecraft is an excellent WordPress blog theme for personal bloggers for professional blogging experience. Full page header image with responsive layout design this theme has it all.
Single column with sidebar
Responsive pages
Clean typography
Three column footer
Free Download